Personalized Icy Diamond Fashion Ring Ideas for Winter
Create the Diamond Ring of Your Dreams at ViaRaz with Your Very Own Private Jeweler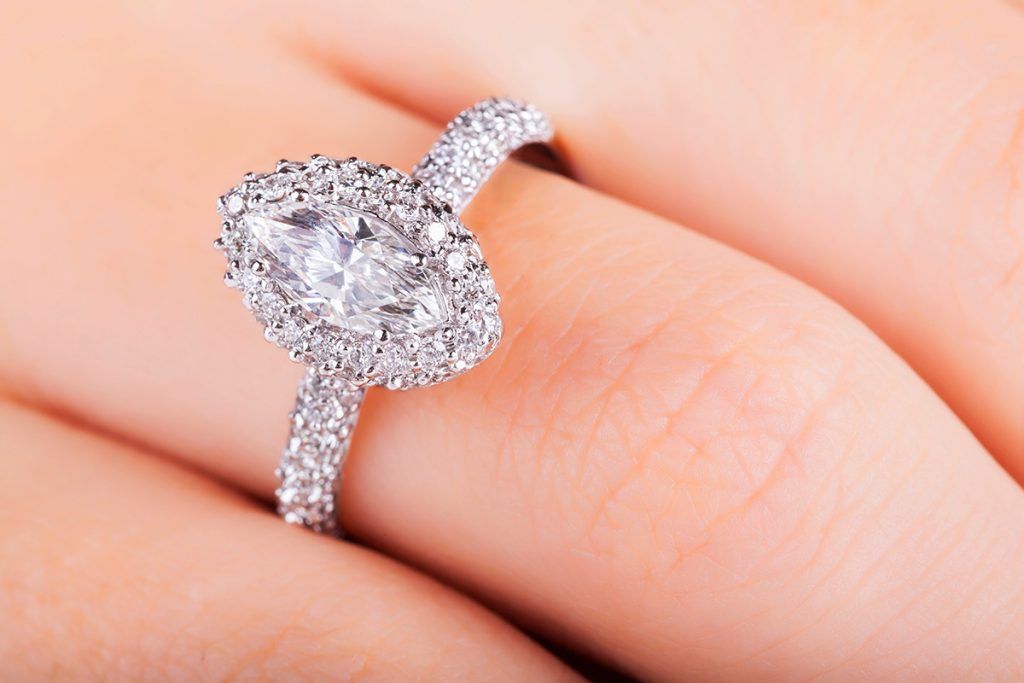 Know you want a diamond ring that's a statement piece, but aren't sure where to start for inspiration? Look no further! This idea guide is great for giving you grand ideas for the diamond ring of your dreams.
Once you come to your private ViaRaz jeweler with inspiration, they can help you fine tune your ideas into a design that you'll love forever. California may not be snowy, but these diamond rings will sure have you feeling icy!
Stackable Diamond Rings
Maybe one fashion ring just isn't enough! Create multiple rings that compliment each other to create the perfect stack. With a diamond ring stack, you have the opportunity to mix and match different tones of metal.
In particular, we love to mix and match white gold, yellow gold, and rose gold rings! You can also switch between intricate and simple designs, and vary how many stones you incorporate into each ring.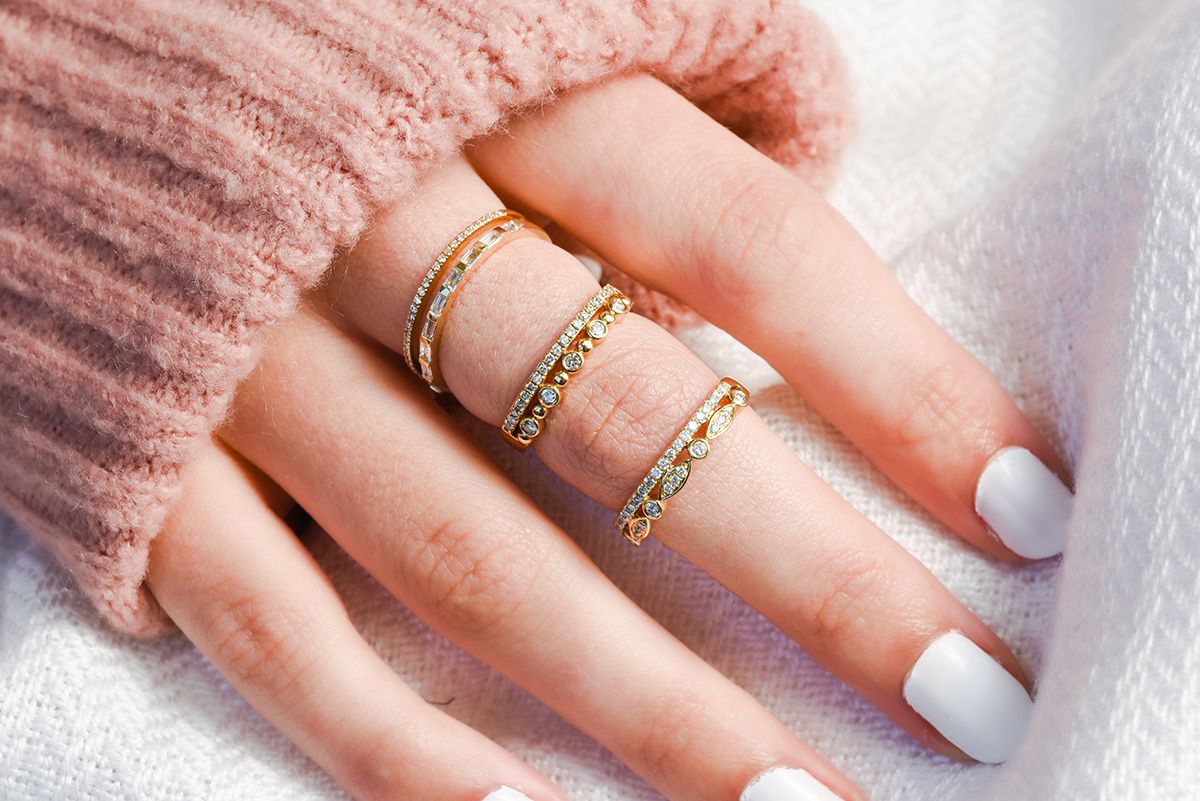 3 Stone Diamond Ring
If one diamond center stone doesn't feel like enough, this multi-stone option may be just what you're looking for. 3 brilliant cut diamonds are placed as the center stones of your ring. When it comes to design choices you can think about what kind of shape you want your center diamonds to be as well as how you would like to design your actual ring band.

Diamond and Sapphire Ring
One design element you may want to think about when creating a diamond and sapphire ring is whether you will have a diamond or sapphire center stone. Maybe try to switch things up by having a sapphire be your center stone while diamonds accent it. Another option would be to create a halo of diamonds around your sapphire center stone. When it comes to choosing your sapphire, you have access to gemstones of almost any color of the rainbow, so use your creativity!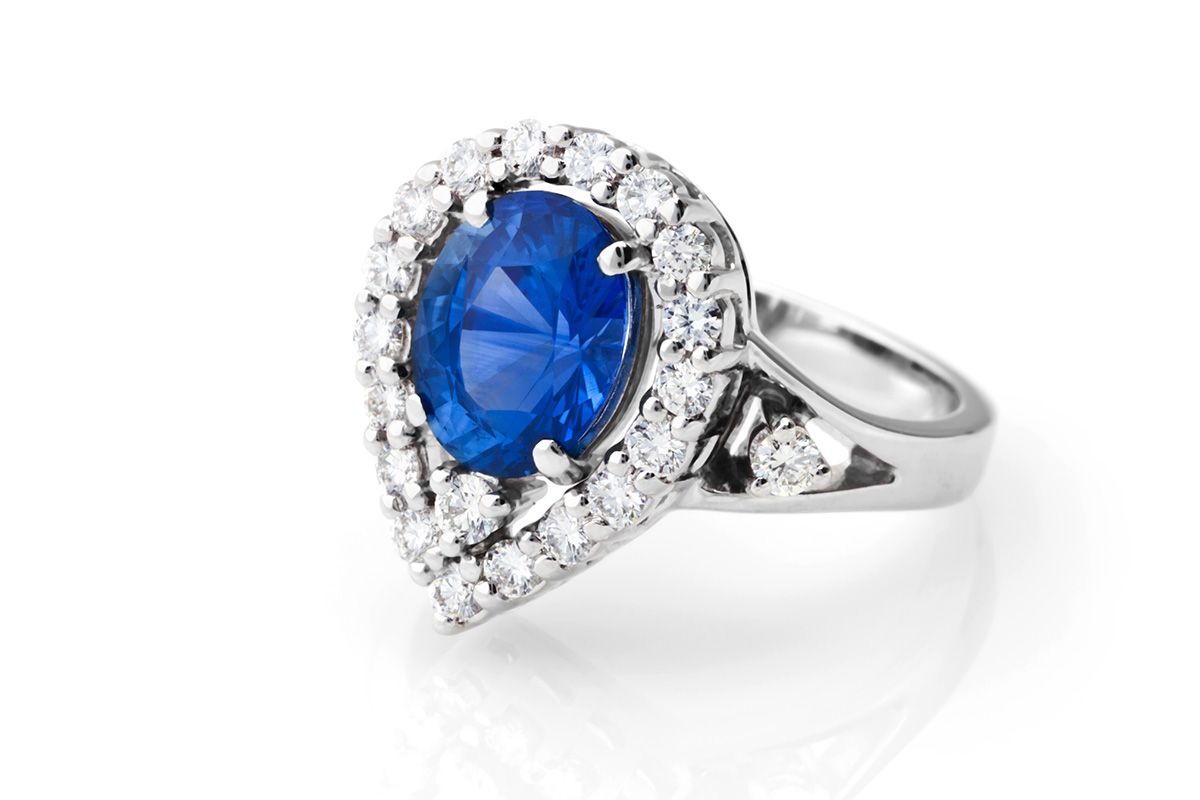 Ruby and Diamond Ring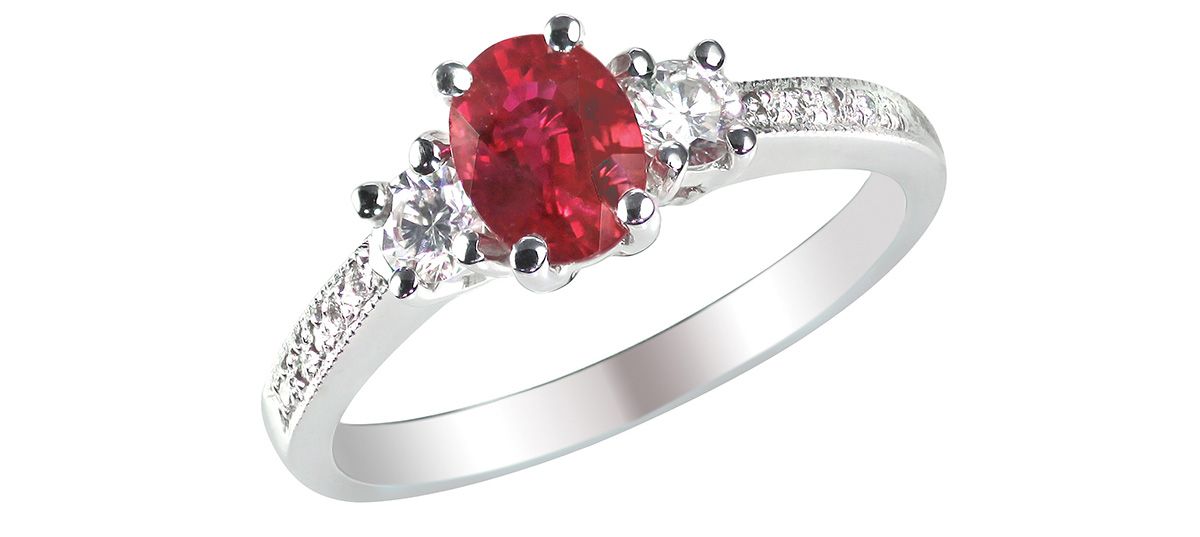 When creating your ruby and diamond ring, you may want to think about the shape of the center stone. What kind of cut and shape do you want your ruby stone to have, and how can you best accent it with diamonds? You can choose between adding side stones just around your ruby center stone or think about having diamonds inlaid around the entire band. As a uniqueness factor, consider pairing your ruby and diamonds with rose gold!
Champagne Diamond Ring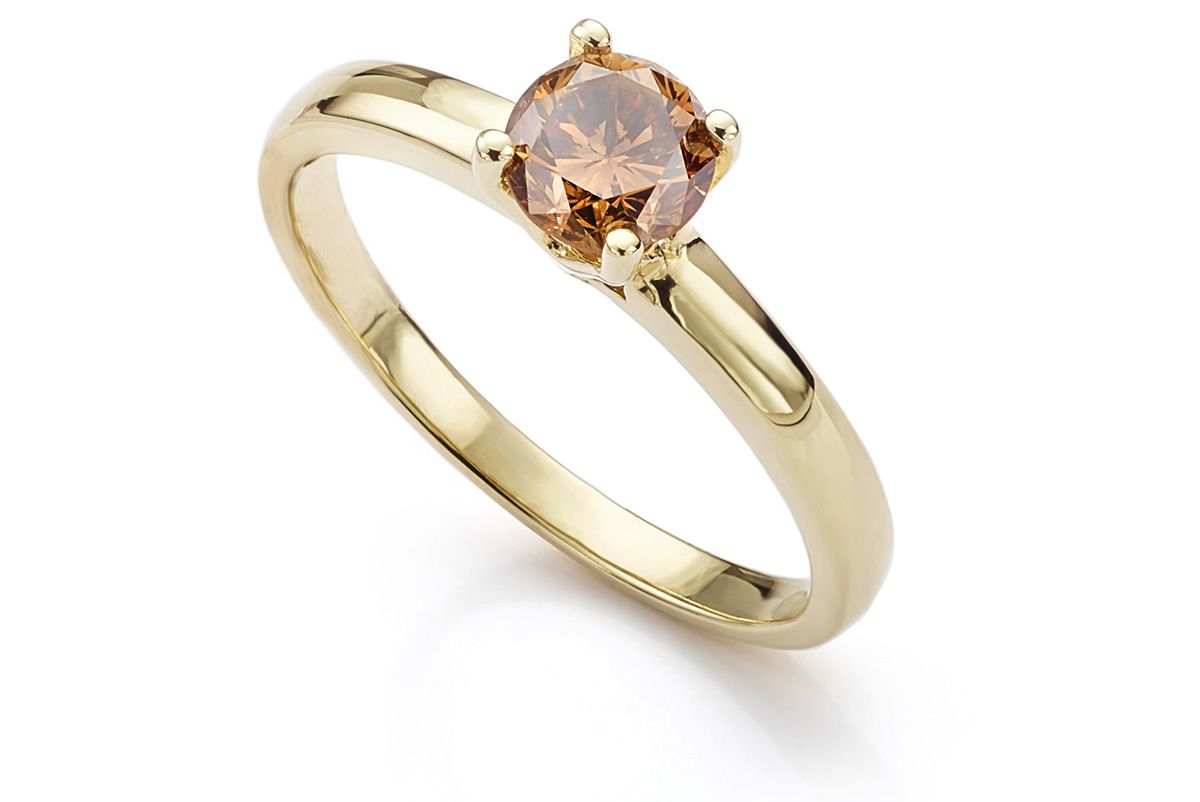 When creating a champagne diamond ring, the possibilities are absolutely endless! Think about what kinds of designs would allow your champagne diamond to stand out. A unique but simple champagne diamond design could be an oval cut champagne diamond on a simple polished white gold band. With this design, you can go with a heavier carat weight to get the wow factor you're looking for.
Diamond Pinky Ring
With so many diamond cuts, shapes, and settings to choose from, we know your pinky ring design presents a lot of difficult decisions. Here are a few different inspiration ideas for your diamond pinky ring.
Consider having a single diamond center stone for a more elegant and feminine feel. If you want a more masculine feel, think about a diamond with larger surface area in a bezel set ring.
Another style to consider would be to inlay multiple round cut diamonds in your ring design. With this design, you can definitely play with the style and metal of the ring band. Think about a band that has a larger width, especially for a diamond eternity band.
Rose Cut Diamond Ring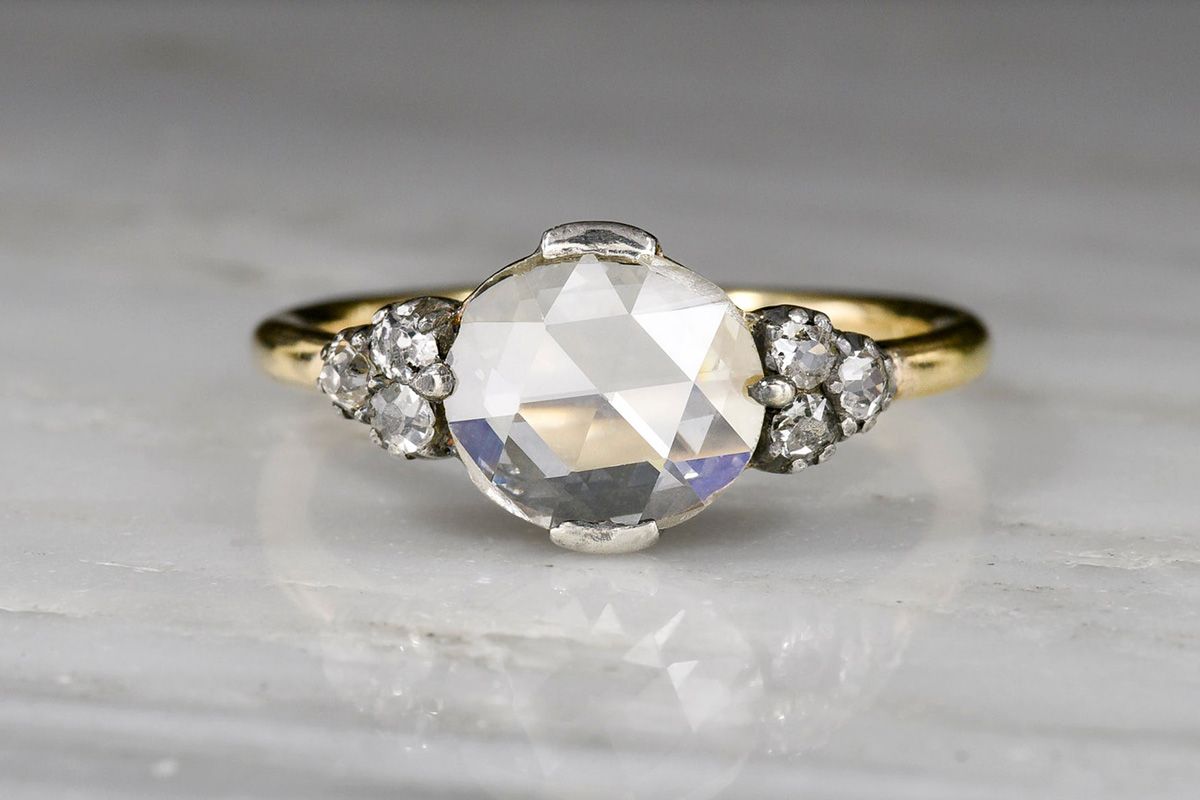 A rose cut diamond has a flat bottom, which allows your diamond to have a larger surface area. Rose cut diamonds are used much less today, but they can give your custom diamond ring an antique feel. It also allows your center stone diamond to appear very large at the front and center of your ring!
Black Diamond Rose Gold Ring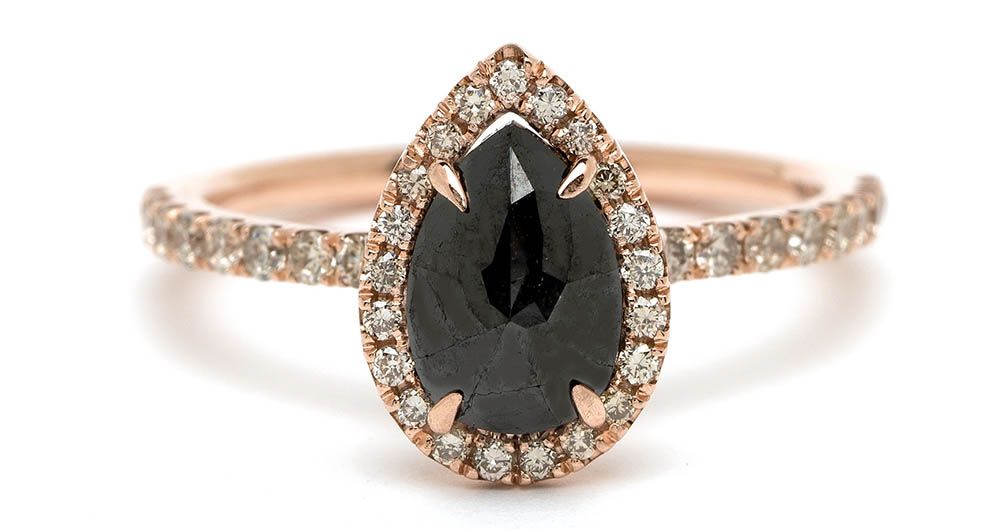 This ring is for someone who wants a true fashion statement. This ring is sure to stand out with contrasting pink and black tones. With this kind of diamond ring, think about what style band you want to have. A vintage inspired ring could be a great way to incorporate a more detailed band with a beautiful black diamond center stone.
Another aspect to contemplate with this ring is if you will have side stones and what they will be. A black diamond center stone on a rose gold vintage inspired band with white diamond accents could be the creative choice you're looking for!
Diamond Cross Ring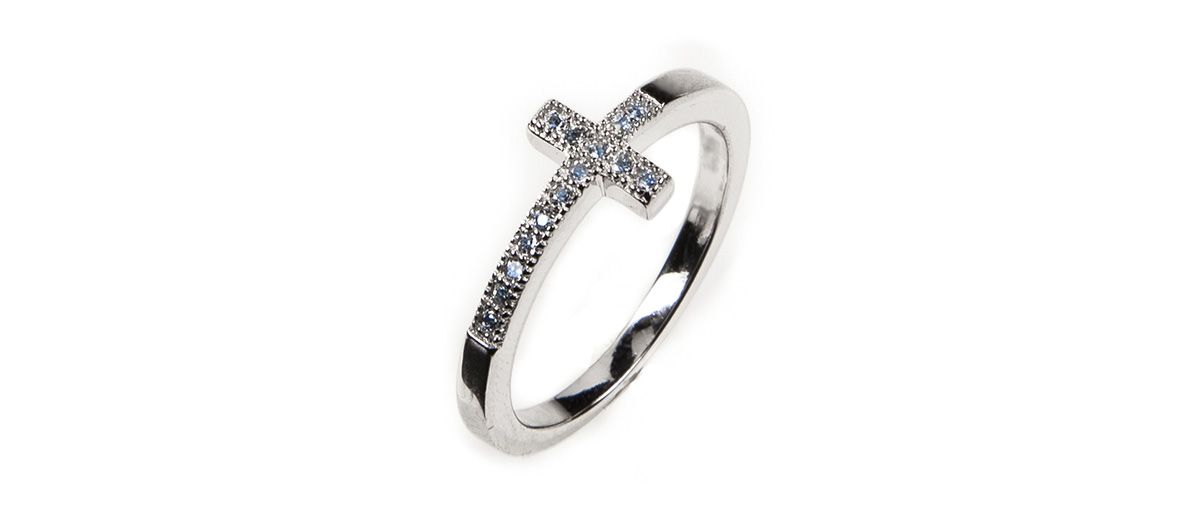 Diamond cross rings come in various styles, but which is best for you? Most diamond cross rings have a basic band with an additional piece of metal that runs vertically in the front of the ring to create the look of a cross. This is a great option, but you should also consider giving your ring a larger face, which would allow you to put a full diamond cross on the front of your ring. This option would allow you space to add some filigree to your design as well.
Diamond Initial Ring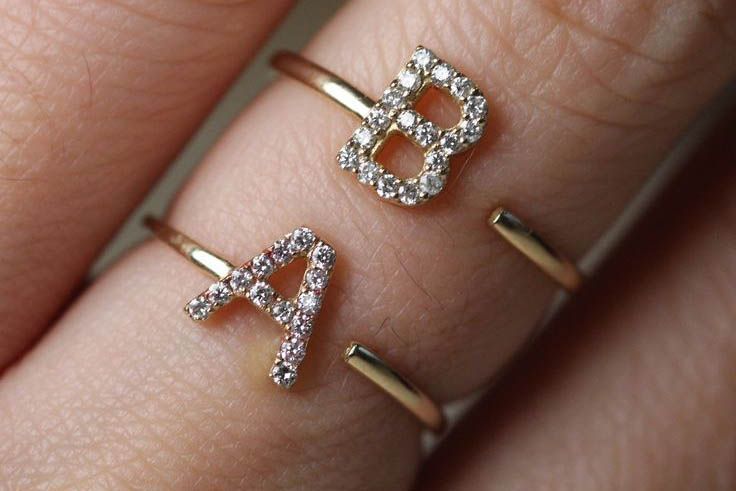 When choosing your diamond initial ring design, one of the biggest decisions you'll have is how to incorporate your initials. Will you get your initials molded into the band of the ring, will they be additional pieces of metal added to the band, or will they be engraved into the ring? For a more masculine feel, having your initials molded into the ring is a great choice, while a more feminine ring may have additional pieces of metal attached to create an elegant cursive lettering design.
Diamond Star Ring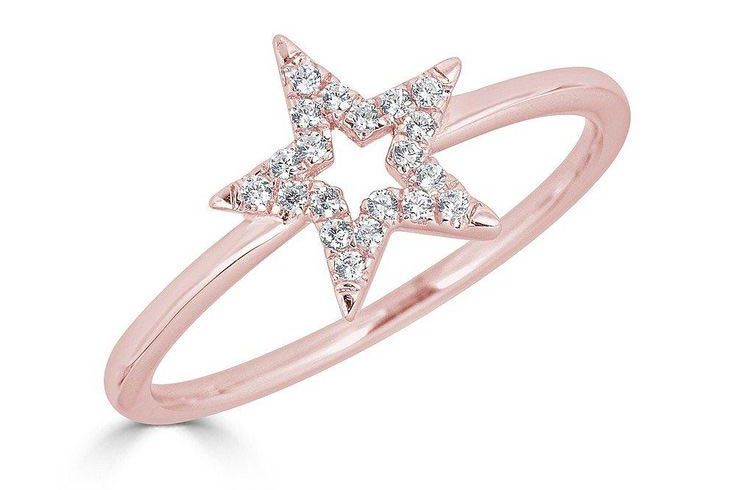 Ready to add an iced out diamond star ring as a statement piece to your collection? If you're looking for a truly icy ring, a 3D diamond star ring may be exactly what you are looking for! With a band that is created as a 3D star and diamonds inlaid throughout the entire ring, this ring design will make you the star of your friend group.
5 Carat Oval Diamond Ring
If you love bling, this is your ring! While there isn't much say with what you can do with stones on a 5 carat oval diamond ring, there's a lot of designing that can be done to your actual band. Your 5 carat oval cut diamond center stone will prevent you from being able to have side stones, there are lots of details you can incorporate into your band with filigree, molding, engraving, and more.
Emerald Cut Black Diamond Ring
Want to showcase some dark sparkles? Consider creating a ring with an emerald cut black diamond. We suggest at least a 3 carat weight black diamond to make this stone the centerpiece of your ring! Another kind of diamond to consider for a ring like this is a salt and pepper diamond, another gorgeous, but unique center stone diamond.
ViaRaz is Your Go-To Concierge Experience for Icy Rings This Winter!
ViaRaz is not your traditional jewelry store. With our unique jewelry experience, you work one on one with your own personal jeweler to create the diamond fashion ring of your dreams this winter. If you're in the market for a diamond ring that is uniquely yours, book your complimentary consultation with ViaRaz to start creating the iced out ring of your dreams today.