Custom Design Jewelry: Your Style, Your Way
Summer is the season of love, a beautiful time to get down on bended knee and pop the question! While beginning your hunt for the perfect ring, consider a custom design ring to make the occasion all the more monumental and intimate. Custom rings show your love that she is so precious to you that she deserves something just as unique and one-of-a-kind as she is.
Custom jewelry designs emphasize the beauty and depth of your relationship while also adding an intensified sentimental value. You're literally giving her something only she can have! There's more than one reason why custom design jewelry is an excellent option to consider when searching for the perfect ring. The custom design benefits that come with creating your own breathtaking engagement ring seem never-ending so we are here to help you understand what all the fuss is about!
Custom Design Tells a Story
Behind every engagement ring is a series of intricate events that have intertwined both of your lives leading up to this very special moment. The very circumstances surrounding your first meeting. The place that you went on your first date. Your first holiday together. The nervous excitement you felt when meeting one another's families for the first time. Your first road trip. Had both of you not walked the paths that you have, your journey to one another could've been entirely different. Your story is unique to the two of you and as such, a ring that is just as special is the perfect way to commemorate that.




Every time she looks at it, she will be reminded of all the wonderful moments the two of you have shared that have brought you together. With the help of a custom design jewelry expert, the ring you forge will not only symbolize your love story but also turn the page to begin a new chapter as you gift it.



Take a Breath– You're Not Alone
Being in the business, we get it. Ring shopping can be stressful. You want to make sure that it's something that will steal her breath while also ensuring that she can cherish it for years to come. Throughout the process, your personal jeweler will be right alongside you, guiding you every step of the way. We've got your back!
You might be afraid that you don't have a knack for design or an artistic eye. Don't worry about it. Your personal jeweler specializes in customized designs and knows how to help pull your vision from your brain and into an incredible, spectacular engagement ring.
If you're unsure where to start, it always helps to have someone to bounce ideas off of. Our specialists have years of experience working with clients like you to turn your love story from life to a symbolic creation of gemstone and glittering metal. As a private jeweler, we are here to help you and you specifically. Through every aspect of the custom jewelry design process, we will be with you, giving our undivided attention. When you choose ViaRaz, you are choosing a dedicated expert that will be working directly alongside you to make the process more comfortable, convenient, and seamless. It's important to us that what we create surpasses even your wildest expectations.
We'll be there to help you design something that fits your budget, aligns with your vision, and is as everlasting as your love. As important as finding the "right ring," is to you, it is to us as well. We want to help make the process as fun and memorable as possible while also ensuring your unique engagement ring is of the highest quality. Tell us more about your lifestyle and we will be happy to suggest materials most suitable for your habits and activities to make certain that your creation is durable and timeless. With custom jewelry design, you won't be walking this road alone. We are a team!
Customized Designs are Unique
One of the things that makes custom design appealing and more personal is that there won't be anyone else in the world that has the same gorgeous ring. It will be unique to only its recipient, adding a deep layer of intimacy and meaning. It is a ring forged from the fires of true, unwavering love. Whatever idea you have brought to life, it will be meant specifically for the one who holds your heart. No one else will have that same piece of jewelry, nor will they ever be able to have it, making it literally one in 7.7 billion! Your creation won't be able to be found at any jewelry store in the world because it will have come straight from the depths of your heart exclusively for her.
Meaning Behind Every Detail
With custom design, you're in control. You get a say in the shape of the engagement ring, the metal used to create it, the number of stones added, and the color of any gemstones that adorn it. With this in mind, it's both effortless and enjoyable to craft a stunning engagement ring on the foundation of feelings of devotion or a cherished memory.
After the ring slides perfectly onto her finger, she will recognize and appreciate the intense thought behind it. The ring will symbolize the love you both have for one another, an image of your story. Much like a trophy symbolizes all of the hard work and sweat that went into securing a championship. Reliving your story every time she peers at it, she will form an emotional connection to the piece you so devotedly made.
Who knows your loved one better than you? You're the perfect person to create something beautiful and sentimental for her. Custom jewelry becomes a memento reminder of you and will transport your loved one back to the day that you got on bended knee to gift it. With so much thought and meaning put behind the ornate creation, it becomes like your timeless love as it is admired by generations that follow. Knowing you helped inspire every detail with her in mind only makes the gift, and the moment it is given, all the more memorable and endearing. While getting down on one knee is the ultimate gesture of your love, going the extra mile to personalize the ring you give her is sure to show her how truly special she is to you.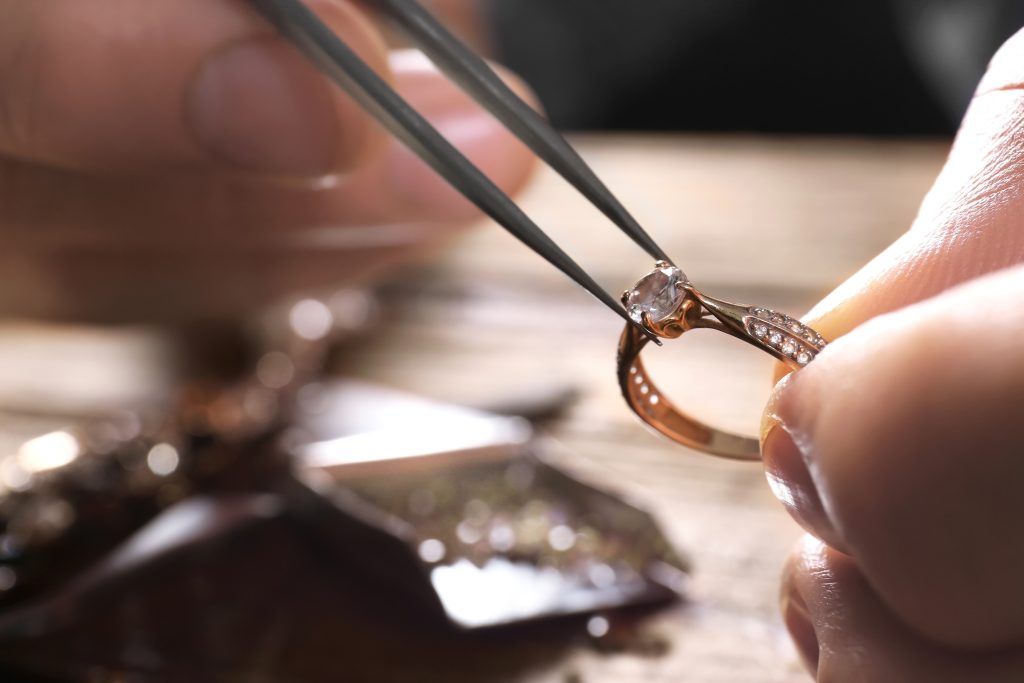 Although you work closely with a jewelry designer, one of the custom design benefits is that you have the reins. Every component of the glamorous engagement ring you design can be personally selected to meet the standard of quality you wish. You get to visually oversee as your creation goes through various stages and is brought to life. This allows you the opportunity to ensure that the finished engagement ring looks just as you had envisioned and is up to the standards of quality you've imagined. 
Hand-Crafted Designs at a Diamonds Direct Price
Designing your own distinct engagement ring might seem like it will cost you thousands of more dollars, but that is not always the case. Working alongside a trained custom professional is a great way to help you forge a ring that fits what you've imagined while simultaneously helping you stay within your budget. Oftentimes, the dazzling finished product of a custom-designed engagement ring can be cheaper than many other stock engagement rings found in the cases.
Speak with your design specialist about what your budget looks like and we will be happy to help you stay within it. Putting even the smallest of details together in a personal way can have so much more of an impact and meaning to your bride-to-be without needing to be out of reach.
After nearly thirty years of wholesaling diamonds, we created ViaRaz as a division of Ami Raz to bring you the most spectacular diamonds at prices not available to the average consumer. With our vast collection of both white diamonds and gemstones, we create unique jewelry that is as one of a kind as your love story. Whatever your vision, we are ready to help you bring it to life.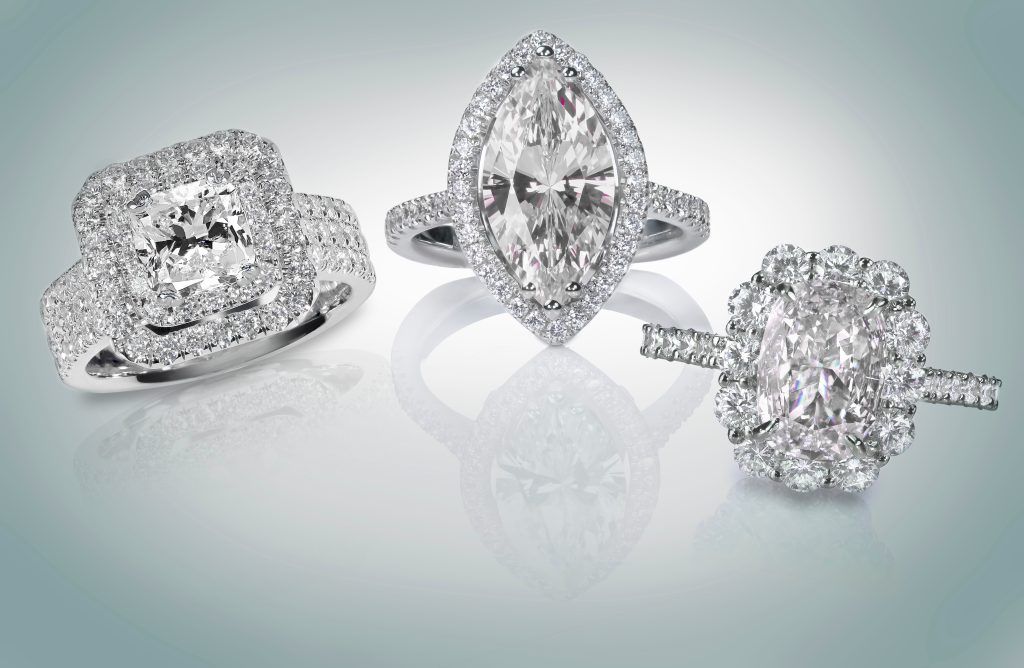 Make Your Engagement Something Special
The moment you kneel before her and ask her to be a part of your forever is a memory you'll both hold close to your hearts for eternity. It is a major life event that cannot be recreated. For such a pivotal moment, you want to pick out an engagement ring that encapsulates the uniqueness of your love.
Customized designs make for an extraordinary ring to commemorate a spectacular event. Creating your beloved a rare, one-of-a-kind engagement ring shows them just how much they mean to you. You're given the opportunity to symbolize your love and to tell a story that she can relive every time she looks at it. You're able to hand-pick each and every detail to ensure the ring is of the quality you wish. The many custom design benefits are one of the reasons we love helping customers create their own jewelry pieces so much!

Our custom design experts are here to help you design a sparkling engagement ring that will make you feel confident when you get down on bended knee. Through every step of the process, we'll be with you.